Its summer here at Greenane and there is no lack of exciting things going on.  Vegetable crops are in full production, we are just starting to have an early group of fall baby calves continue being born.  The cows, pigs, chickens, turkey and quail are all out on pasture, and we still have some flowers in the garden center for sale. 
  Picking raspberries in the Orchard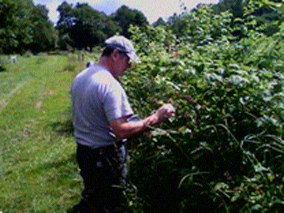 Our new CSA membership site is now up and running!!!!!  You can join, manage you account, put your deliveries on-hold, and shop at the farm store for items that can be included in your CSA delivery all on-line!!!!!
If you are new:  https://www.farmigo.com/join/greenanefarms/2014
If you are already a Greenane Farms CSA member: https://www.farmigo.com/account/greenanefarms
If you just want to shop at the store: https://www.farmigo.com/store/greenanefarms
We would really love to have you become a member of the CSA and support not only our family farm but also the families of the many farms we work with !!!!
The Rider Family & Greenane Crew
KNOW YOUR FARMER
NO FARMS - NO FOOD